Day 1 :
Keynote Forum
Middle East Technical University, Turkey
Time : 10:05 - 10:40

Biography:
Hami Alpas was a Visiting Scholar in 1996 and 1998 at University of Wyoming, USA; Visiting Scientist in 2001 and 2002 at Ohio State University, USA and; Visiting Professor in 2006, 2007 and 2008 at University of Bordeaux I, France. His main research areas are: Unit Operations in Food Engineering, Non-thermal Food Processing Technologies, Food Quality, Food Safety and Food Defense. He is an expert in Food Defense training activities via NCFPD (USA). He has supervised five PhD and 12 MSc theses. He has 76 international journal articles (SCI) and over 1000 citations as well as close to 60 academic presentations in 40 different international meetings. He has completed 15 national, four international projects including EU/JRC, CNRS-EGIDE and NATO ARW/ATC, EU-FP7 projects. He has authored 12 chapters in internationally edited books and has edited three international books by Springer.
Abstract:
The global food system became extremely vulnerable in the 21st century. Food having, social, cultural and nourishment aspects is produced in bulk amounts and needs rapid production, sourcing and distribution at both national and international level that is beyond the limits of routine food safety measures. Traditional food safety practices lack the capability of recovering/preventing from intentional threats and securing our food for accessing to sufficient calories. The intentional contamination of food supply poses a real threat to society. It has the potential to disrupt food distribution, loss of consumer confidence in government and the food supply. It is still unconventional and occurs asymmetrically. The overlaps and differences between safety and defense have to be clarified through a total food protection, perspective by breakdown of food safety management systems and especially vulnerability assessment. Food security, safety, defense, protection and quality should all be linked within a food continuum by determining the counter measures to eliminate or at least minimize the vulnerabilities as well as enhancing the capability for surveillance, preparedness and response to pre-determined intentional contamination for greater awareness and prevention. Intentional adulteration, possible motivations, terrorism, industrial sabotage and economically motivated adulteration are all new concepts that will be detailed. Finally, possible food defense mitigation strategies and tools will be summarized through public-private partnership alternatives for preparedness and international outreach.
Keynote Forum
Embassy of Malaysia, Belgium
Time : 11:00-11:35

Biography:
Kalanithi Nesaretnam completed her PhD in Biochemistry and Molecular Biology at University of Reading, UK in 1996. She is currently a Minister at Malaysian Embassy based in Brussels, Belgium. She started her career at Malaysian Palm Oil Board (MPOB) as a Scientist studying the effects of palm oil and its phytonutrients in nutrition and health. She has a number of patents and several publications to her credit and is best known for her contribution to the field of research in Tocotrienols and Breast Cancer. She was awarded Gold Medal for excellence in research by MPOB in 2001 and won prestigious World Intellectual Property Organization's (WIPO) Best Woman Inventor in 2006. She was a founding member of Society for Free Radical Research (SFRR) and is the Past-President for SFRR Asia. Prior to her current position, she was Director for Product Development and Advisory Services, MPOB for six years.
Abstract:
Palm oil is the world's most traded vegetable oil. 85% of the oil is used for food. It is therefore imperative that the highest standards of food safety and quality should be adopted. This high standard for food can only be achieved by an effective partnership between government regulators and producers. Oil palm plantations cover 16.4 million hectares worldwide which is only 0.3% of the world's agricultural land. Nevertheless, oil palm has adopted environmental sustainability standards as a key driver. In Malaysia, oil palm cultivation has long advocated sustainable farming practices. The research and development activities engrained within the industry also ensure the industry remains a leader in the production of edible oil. The global market today is facing a potential crisis in terms of ensuring food security. The challenge is to produce and supply safe and nutritious food in a sustainable way for a growing population, which is projected to reach 9 billion by 2050. While demand for food is rising, the amount of land suitable for food production is likely to be limited, mainly through pressures from other uses and climate change. This paper will address some of the steps being considered to overcome these challenges.
Keynote Forum
Seoul National University, South Korea
Time : 11:35-12:10

Biography:
Yong Ho Park completed his DVM and MS at College of Veterinary Medicine, Seoul National University, Korea. In 1991, he completed his PhD in Veterinary Microbiology at Washington State University, US. He has worked at National Veterinary Research Institute from 1978 to 1995. He has been appointed as an Adjunct Professor at College of Veterinary Medicine, Washington State University since 1996 and has been also appointed as an Affiliate Professor at Mississippi State University since 2013. He has served as a President of Asian Association of Veterinary Schools (AAVS) and President of Korean Society of Food Hygiene and Safety. From 2011 to 2014, he has worked as a Commissioner at Animal, Plant, Fisheries, Quarantine and Inspection Agency, Korea. He has published more than 240 scientific papers at referred journals.
Abstract:
Antimicrobials have played an important role in maintaining the animal health and in producing the high quality food. The concern that the use of antimicrobials in food animal production can increase the risk of selection of antimicrobial resistant bacteria that may cause failure of treatment has led to international expert meeting and reports. Although the prevalence of zoonotic antimicrobial resistant bacteria in food animals is maintained still low, however, resistant genotypes similar to or identical with those of the human isolates were also found in non-human sources. Therefore, the risk management interventions should be urgently implemented. Furthermore, a one health approach to antimicrobial use and resistance is essential to minimize the antimicrobial resistance in humans and animals, because these are the responsibility of all three health communities: Human health; animal health and; environmental health-communities. Recent reports have documented MRSA (Methicillin Resistant Staphylococcus aureus) detection in animals, foods and animal workers. Now, it is considered as one of the most important zoonotic pathogens. Extended-spectrum β-lactamase (ESBL)-mediated resistance is of considerable importance in both human and veterinary medicine. In a study done in Korea, CTX-M producing E. coli and Salmonella were detected in animals, raw meat, farm environment and farm workers. These results suggest that a combination of clonal and horizontal transmission is spreading of CTX-M resistant NTS between animal and human sources. Surveillance of antimicrobial usage and resistance provides important data for the identification of resistance problems and contributing factors for the development and spread of resistance at a national and local level. Harmonization and standardization are needed to compare the situations at the national and international levels. Prevention and control of infections in food animals is essential in fighting antimicrobial resistance. It is essential that all parties work together to ensure safe use and to minimize the development of resistance.
Session Introduction
Istituto Zooprofilattico Sperimentale della Puglia e della Basilicata, Italy
Time : 12:10-12:35

Biography:
Marco Iammarino is a Food Technologist and Chemical Surveyor. He is a Researcher at Istituto Zooprofilattico Sperimentale della Puglia e della Basilicata of Foggia (Italy). He deals with food quality and safety, analytical chemistry applied to food analysis, research & development and analytical methods validation. In particular, he has developed several analytical methods (HPLC, HPIC, CE and LSC) for the determinations of food additives (nitrites, nitrates, sulfites, polyphosphates, organic acids, etc.), radionuclides, mycotoxins and drugs in foods and feed materials. He has published more than 100 articles in peer-reviewed and academic journals, congresses proceedings and books.
Abstract:
The possible detection of not negligible concentrations of nitrates, sulphites and ascorbic acid in fresh meat preparations was demonstrated by different authors, also in products with no added food additives. In these cases, the not compliant result, release by organisms in charge of food controls, seems to be not appropriate, since these levels are due to the natural presence, and/or to carry-over principle. In this presentation, the control activity developed by Chemistry department of Istituto Zooprofilattico Sperimentale of Puglia and Basilicata (Foggia, Italy), aimed at giving a useful contribution to the evaluation and estimation of such admissible levels, is presented. Overall, 2630 samples (200 fresh meats and 2430 fresh meat preparations) were analyzed, by using validated liquid chromatography methods (HPIC-CD and HPLC-UV-DAD), and the respective compound of interest was identified and quantified.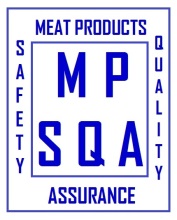 Istituto Zooprofilattico Sperimentale della Puglia e della Basilicata, Italy

Biography:
Marco Iammarino is a Food Technologist and Chemical Surveyor. He is a Researcher at Istituto Zooprofilattico Sperimentale della Puglia e della Basilicata of Foggia (Italy). He deals with food quality and safety, analytical chemistry applied to food analysis, research & development and analytical methods validation. In particular, he has developed several analytical methods (HPLC, HPIC, CE and LSC) for the determinations of food additives (nitrites, nitrates, sulfites, polyphosphates, organic acids, etc.), radionuclides, mycotoxins and drugs in foods and feed materials. He has published more than 100 articles in peer-reviewed and academic journals, congresses proceedings and books.
Abstract:
The large consumption of meat products has been discouraged by WHO and FAO. Indeed, excessive consumption of meat products may cause some toxic effects on humans, such as cardiovascular diseases and cancer risk, especially after cooking. Moreover, in the last years, the attention of scientific community has been focused on another aspect of meat quality: Mechanically Separated Meats (MSM). Despite of these aspects, meat consumption increased worldwide, also in developing countries. Consequently, appropriate strategies should be developed, in order to minimize the risks associated to meat consumption. Through MPSQA project, financed by Italian Ministry of Health, the involved research centers will make specific skills and expertise available to them to develop innovative analytical methods, more efficient than those currently available, for the determination of nitrosamines and food additives (food dyes) in meat products, and for the identification of mechanically separated meats.
Session Introduction
Former Minister of Agriculture, President of the Association of the Water Friends in Lebanon, Lebanon
Time : 14:00-14:35
Biography:
Adel Cortas was Former Minister of Agriculture. He is the President of the Association of the Water Friends in Lebanon.
Abstract:
On 24 October 2016, the Food Safety Law in Lebanon was approved and published by the parliament as Law N0:35. Consumers protection advocates, in Lebanon were waiting for the government to implement the provisions of the new safety law which will improve public health. The majority of the Lebanese public and international community agreed and questioned how come that Lebanon waited so long until the end of the Twentieth century without having a Law covering Food Safety? It was until the beginning of the 21st century (in 2004) that a draft Law was introduced, discussed and finally approved by the parliament. The answer to this query came out that special private interests of some Lebanese agricultural producers and merchants were benefitting from the loose enforcement of the law and regulations to seek the highest profit possible. In fact, before the publication of the Food Safety Law, there were nine government agencies in the different ministries and independent ones. All of them were dealing with Food Safety in one or the other. But there was no coordination among them whatsoever. Responsibilities, activities and terms of reference of these agencies are described in details in the paper.
In articles 22-23 there is a detailed description of the Food Safety Lebanese Commission (FSLC) responsibilities. It is referred to as FSLC. In short it is the FDA of Lebanon. A detailed description of the FSLC will come out in the paper.
The major objective of the paper will aim at preparing a proposed program on what should be done by the Lebanese Government in order to reach a better level in Food Safety conditions. A detailed analysis is made of these articles and confront them with the work done by assisting the nine agencies dealing with Food Safety in Lebanon. The problem is that so far, we don't have a program or a policy dealing with Food Safety in Lebanon. The Food Safety law will help a great deal to fill this gap.
The second objective is to look into more details into the problems of education and training of professionals dealing with Food Safety in Lebanon. We pride ourselves in Lebanon, for the number universities we have. However, the number of universities dealing with agriculture will not exceed six and the those dealing with nutrition and food safety are the American University of Beirut (AUB) and the Lebanese American university (LAU). Some incentives should be given to the other four universities teaching Agriculture in Lebanon to do some research and give courses dealing with Food Safety.
The third objective of this new program refers to the urgency for the Councils of Ministers in Lebanon to establish the FSLC and appoint its chairman and members. When the FSLC is established it has to organize itself and prepare all the documents mentioned in article 27 of the food safety law. Then FSLC will prepare the program or food policy in Lebanon in cooperation with representatives from the nine agencies. A food Safety System will be established this way and should contain a sub-system of monitoring and evaluation of activities and responsibilities. This would help in the preparation of the annual report referred to in article 31 of the Food Safety Law. A continuous training program should be programmed annually between FSLC and representatives of the Nine agencies, in cooperation with the universities teaching Nutrition and Food Safety. LAU, within its Food Safety program is giving annually a course with a certificate in Food Safety. This certificate was highly appreciated by the Syndicate of the Lebanese Food Industries (SLFI) and the General Union of Arab Chambers of Commerce. They were willing to pay higher salaries for those having the certificate on Food Safety training.
The success of this new law depends on how it will be implemented. A campaign should immediately be launched, now that the law is enacted to draw attention to its importance and added value to Lebanese citizens.
Session Introduction
University of St. Kliment Ohridski, Republic of Macedonia
Time : 14:35-15:00

Biography:
Valentina Pavlova completed her Doctor of Science in Chemistry at Ss. Cyril and Methodius University, Faculty of Natural Sciences and Mathematics, Republic of Macedonia in 2007, where she worked for a period of 2002-2009 as a Teacher and Research Assistant. She has completed Post-doctoral studies in Food Technology and Nutrition at Alexander Technological Educational Institute of Thessaloniki, Thessaloniki, Greece in 2015. She is working at Faculty of Technology and Technical Science, St. Kliment Ohridski Bitola, and is teaching several subjects: Chemistry, Biochemistry, Nutrition, and Sensory Analysis of food. She is the author/co-author of more than 100 articles; participated in more than 90 diploma works, 12 master and doctoral dissertation and 10 research projects, Reviewer of four international journals. Her scientific interest includes "Chemical and sensory analysis of food, human nutrition".
Abstract:
Gluten is a composite of storage proteins termed as prolamins and glutelins found in wheat and related grains, including barley, oat, rye, and all their species and hybrids (such as khorasan, emmer, triticale, etc.). A gluten-free diet is a diet that strictly excludes gluten. This type of diet has been proven to be beneficial for people struggling with inflammatory diseases and autoimmune disorders. The reaction to gluten ingestion by sufferers of celiac disease is the inflammation of the small intestine leading to the malabsorption of several important nutrients including iron, folic acid, calcium and fat soluble vitamins. It is wrong when a gluten-free diet is recommended as a method for weight loss and as a method for improving health. The replacement of gluten is a huge technological challenge, because it is a basic protein to create high-quality wheat supplies. The aim of this research is optimization of gluten-free cookies production in terms of sensory characteristics and comparison with conventional cookies that contain gluten. For this purpose, four types of gluten-free cookies were developed according to various recipes. Sensory evaluation is a critical component to that process because it is responsible for generating new product ideas based on unique sensory properties or unique consumer segments identified only through sensory behavior. In order to choose the most acceptable product, sensory analysis were done by trained panelists. The final gluten-free product showed differences in terms of sensory characteristics exterior designs and texture (with bright yellow color and with greater friability). The taste and smell were tied at two products, so the purpose of this research was achieved. The fact that respondents like gluten product more than a gluten-free product can be offset by targeting product target customer group that is ready to make a small compromise sensory properties for health and nutritional benefits of the aglutenic product.
Selcuk University, Turkey
Time : 15:00-15:25
Biography:
Nihat Akın has completed his PhD in Chemical Engineering Department at Loughborough University of Technology, United Kingdom. He has been working as a Professor for 15 years and been working as Head of Department of Food Engineering at Selcuk University. He has published more than 100 scientific papers about Milk Products and Microbiology.
Abstract:
Yogurt is well known for its health promoting properties. Oleaster has been suggested to increase the growth of probiotic bacteria during yogurt production. However, studies on the effects of dried fruit flour on physico-chemical characteristics of yogurt are limited. This study aimed to evaluate the effects of oleaster flour on the overall quality of yogurt and anticipate inventing a new fiber rich yogurt product. In this study, 3.5% whole milk was supplemented with 1-3% (v/w) oleaster flour, inoculated with a yogurt culture (Danisco YO-MIX 883 LYO 500 DCU), fermented and stored at 4ºC. The control and fortified samples were analyzed for pH, total titratable acidity (TTA), viscosity, and microbial counts over a 28-day storage period (4C). The color test, viscosity, and sensory evaluation were also performed at the initial day of production. Results demonstrated that oleaster flour stimulated the growth of Streptococcus thermophiles and Lactobacillus delbrueckii subsp. bulgaricus after the initial fermentation and maintained a greater bacterial count over a 28-day refrigerated storage. Furthermore, there was a significant (p<0.05) decrease in pH and enhancement in TTA in oleaster flour containing yogurt across the whole storage period. Fermentation time was decreased by 1.5 hours with inclusion of oleaster flour (pH: 4.5). The color and viscosity value were almost constant and there was not a significant (p<0.05) difference between the control sample and the fortifying samples. There were similar results on sensory properties comparing the plain yogurt and yogurt with 1% and 2% of oleaster flour. The results suggest that oleaster fortified yogurt offers an alternative new fermented dairy product and provides a better quality.

Biography:
John Sammon III is a Leader in Information Systems and Food Safety. He has a passion for technology solutions that breed operational efficiencies while improving and protecting human health. He helped to develop and now leads SureCheck®, a cloud-based food safety solution. He is also a champion for the use of machine to machine (M2M), internet of things (IoT) and mobility solutions to improve global food chain tracking, monitoring and safety. He completed his Bachelor's degree at Colgate University and Master's Degree at University of Rochester.
Abstract:
As the advancements in technology improve; large, distributed, food businesses must adapt, adopt or die. The leading businesses know that food safety and compliance are cost centers and while extremely important to quality and safety, erode product margins. New technologies not only lower operating costs, they improve nearly all metrics and greatly impact your overall food safety culture. The best employees embrace technological tools and take pride in driving quality. Using cloud and mobility are second nature to all of us now and so it should be with compliance and quality monitoring. This presentation will discuss a number of different technologies such as mobility, internet of things (IoT) devices and sensors, wireless, internet, business intelligence, GS 128 barcodes and cloud reporting. While there are many global factors in the information age that make food safety more challenging, there are also many new and exciting technologies which can provide visibility and control. Food businesses must look into new ways to monitor critical control points and use real time information to drive food safety culture in their operations. Global enterprises need to leverage modern day technologies to monitor and enforce food safety cultures throughout their operations. Adoption of technologies should assist and facilitate better knowledge and understanding for the people that manage these dispersed procedures.
University of Milan, Italy
Time : 15:50-16:15

Biography:
Sarah Zecchin is a microbial ecologist, specialized in the analysis of environmental microbial communities using Next-Generation Sequencing techniques. She graduated in Biology as a bachelor and master student in 2010 (University of Padova) and in 2013 (University of Milano-Bicocca) respectively. She started working on rice rhizospheric sulfate-reducing bacteria during her master traineeship at the Division of Microbial Ecology at the University of Vienna (Austria). During her PhD (obtained in 2017) in Food Systems at the University of Milano, she studied the rice rhizospheric microbial communities involved in arsenic contamination. She is currently working as a postdoctoral researcher at the Department of Biology at the University of Konstanz (Germany), dealing with novel species of sulfate-reducing bacteria living in rice rhizosphere.
Abstract:
Rice is one of the crops with highest levels of arsenic (As) contamination. Italy, the first European rice producer, is affected by this health issue. The European commission recently established specific limits for As content in rice grain (Commission regulation (EU) 2005/1006). Continuous flooding, commonly employed in rice cultivation, has been identified as the main factor inducing high solubilisation of As from soil minerals and consequent uptake by the plant. Microorganisms influence As biogeochemistry both directly, by converting different oxidation states of the metalloid or by methylation, and indirectly, acting on As containing soil minerals. Since little is known on the actual role of rhizosphere microorganisms in driving As contamination in rice, our work aimed at deciphering how water managements influence the development of bacterial populations involved in the biogeochemical cycle of As, thus determining As contamination of rice grain. High throughput sequencing, PCR-based as well as microscopy methods were applied to study the microbial communities inhabiting different rhizosphere compartments of rice. We demonstrated that under continuous flooding, iron-reducing and sulfur-oxidizing bacteria emerged, explaining As solubilization from iron- and sulfide-containing minerals. Moreover, As-methylating bacteria were enhanced, resulting in organic As accumulation in rice grains. On the other hand, As- and iron oxidizing bacteria were enhanced in limited water usage condition (aerobic rice), where rice grains contained negligible As concentration. In this study, a direct involvement of specific rhizosphere microbial populations in determining As fate in rice paddy soil was assessed. Agronomic practices promoting beneficial rhizosphere population should be further refined in order to achieve the safety requirements for rice grain production.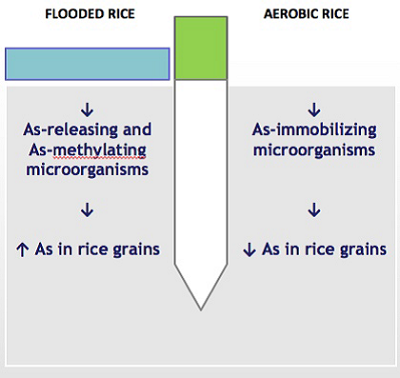 Figure 1 Effect of two different water regimes (continuous flooding and aerobic rice) on rhizospheric microbial populations and on As content in rice grains.
Korea Health Industry Development Institute, South Korea
Time : 16:35-17:00
Biography:
Cho-il Kim is an invited Research Fellow at Korea Health Industry Development Institute (KHIDI), a government-affiliated research institute in Korea. She recently retired from her last position, Director General of the Bureau of Health Industry Promotion at KHIDI. She completed her Under-graduate Degree and MS at Seoul National University in Food & Nutrition and, PhD in Nutritional Sciences at Cornell University. She worked at Mount Sinai School of Medicine for her Post-doctoral research and subsequent positions of Lecturer and Research Assistant Professor for six years. Returning to Korea, she joined KHIDI to support government in developing nutrition policies and programs. With more than 100 research projects conducted, she developed methodology and tools for national nutrition survey, special supplemental nutrition program 'NutriPlus', Korean total diet study, and DHRA (diet-related health risk appraisal) for Koreans.
Abstract:
Introduction & Aim: Acrylamide (AA) and furan (F) have been classified as probably carcinogenic (group 2A) and possibly carcinogenic (group 2B) respectively by the International Agency for Research on Cancer. They are produced by Maillard reaction during production, processing, and/or cooking of foods, unintentionally. With the recent amendment on the Food Sanitation Act in Korea, the Ministry of Food & Drug Safety decided to evaluate dietary exposure of the Korean population to those hazardous materials produced involuntarily throughout steps from farm to fork. Hence, we attempted to estimate AA and F exposure of the Korean population and assess the relevant risk.
Materials & Methods: Using the dietary intake data of individuals collected through nutrition survey component of the Korea Health and Nutrition Examination Survey, we established a nationwide representative data set of six years from 2008 through 2013. To draw a representative food list for total diet study, we considered foods consumed in higher amount, foods consumed by more people more frequently, and foods contributes more to fat intake (figure 1) resulting in a list covering 97.4% of mean food intake. Based on the type of dishes (cooked foods), about 1,200 pairs of 'food X cooking methods' were identified for chemical analysis sample preparation. AA was analyzed using LC/MS and automated HS-SPME-GC/MS was used for F analysis.
Results: Mean exposure to AA and F were estimated to be 0.086 μg/kg bw/day and 0.210 μg/kg bw/day, respectively. Corresponding MOE values (2,045-3,522 and 4,137 based on the BMDL10 set by JECFA) fell into the category of possible concern. Food contributes the most to AA exposure was black pepper (18.2%), and only five foods were needed to cover half of AA exposure in contrast to more than a dozen of foods in F exposure.
Conclusion: Korean government is working on measures to minimize the exposure.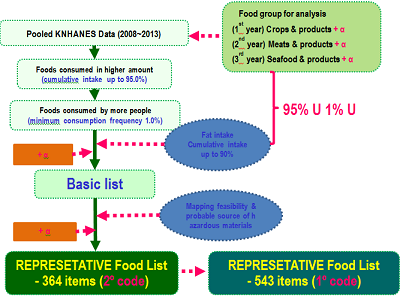 Figure 1. Flow of representative food selection process
University of Milan, Italy
Time : 17:00-17:25

Biography:
Marie Markantonis is an environmental microbiologist. Her research interest is dedicated to interdisciplinary studies, dealing with mitigation and remediation of industrial and pesticide pollution in soil, groundwater and plants. Her expertise lies in the establishment of different scale model systems, such as constructed wetlands, micro- and mesocosms, to monitor mitigation processes. She wants to push forward environmental friendly and economical sustainable assessment strategies and measures to mitigate and eliminate man-made environmental pollution, which harm animals and humans when entering the food chain through livestock and food plants. She focused on the analytical and biological assessment and distribution of pesticides, solvents and heavy metals, and their metabolism in the environment and the risk of food ingestion and the associated risks for humans.
Abstract:
Statement of the Problem: The global problem of uptake and accumulation of toxic elements (e.g. arsenic, As) in food plants (e.g. rice) urges for solutions, in order to satisfy the demand of food-safe plants for the growing world population (ML: 0.2 mg/kg rice). High bio-available silicate (Si) and phosphate (P) contents in soil lower As accumulation in the grain. Sustainable advancements in future farming practices may involve the use of silicate and phosphate solubilizing bacteria (SPSB) that could increase soil fertility and minimize As uptake. This study aimed at elucidating the role of SPSB in the mitigation of As contamination of rice in relation with Si addition as part of future farming practices in paddy rice soils. Methodology: Three mitigation strategies were tested in lab-to-field approaches (hydroponic growth pouches, soil-plant-pots): i) amendment of Si, ii) rice seed inoculation with natural rice root SPSB with As(III)-oxidation activity iii) and the combination of i) and ii). Findings: The combination of two factors resulted in a positive synergy that significantly increased germination and root development compared to no treatment or Si amendment only. In simplified hydroponic systems, presence of As(III) oxidising SPSB- inoculum reduced uptake of As, possibly due to enhancement of competition between the two ions on aquaporin transporters in the roots. In soil-plant-pots, presence of Si decreased the concentration of As in plants, emphasizing possible competition between Si and As on radical level conveyors. However, the SPSB inoculum promoted As mobilization, thus resulting in higher As uptake. Conclusion & Significance: The characterization of rice rhizosphere bacteria indicated that most of SPSB are hold in the endosphere and that their application improved plant germination and decreased As uptake. When in soil, addition of Si reduced As uptake into the rice plant and seems to be a good application for future farming practices.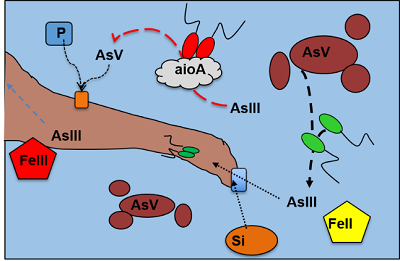 Figure 1 Conceptual model arsenic transformation and uptake in to rice root, mediated by root bacteria in presence of phosphates and silicates
Federal University of Amazonas, Brazil
Time : 17:25-17:50

Biography:
Maristela Martins Pereira completed her PhD in Food Science at Federal University of Santa Catarina, Brazil. She is a Professor in Department of Agricultural Engineering and Soil at Federal University of Amazonas, Brazil.
Abstract:
A study was carried out to evaluate the association of levels of radioactivity, selenium and aflatoxin in shelled Brazil nuts, which were classified in different sizes, for export. The selenium determinations were performed by inductively coupled plasma optical emission spectrometry (LOQ=3.0 µg g-1) and aflatoxins were detected by liquid chromatography-mass spectrometry (LOQ=0.85 µg kg-1), recovery rates were between 92 and 100%. Radioactivity was measured by high-resolution gamma spectrometry. The selenium mean concentration was 22.7±7.4 µg g-1, n=30. Mean activities determined for the following radium isotopes were: 15.77 Bq kg-1 for 224Ra, 104.8 Bq kg-1 for 226Ra and 99.48 Bq kg-1 for 228Ra. For 226Ra, the levels did not vary significantly with nut sizes, although such differences were observed for 224Ra and 228Ra. There was no statistically significant association between the level of selenium and the activity of radionuclides, however, there was correlation between the radionuclides. Aflatoxins above the quantification limit were not found.